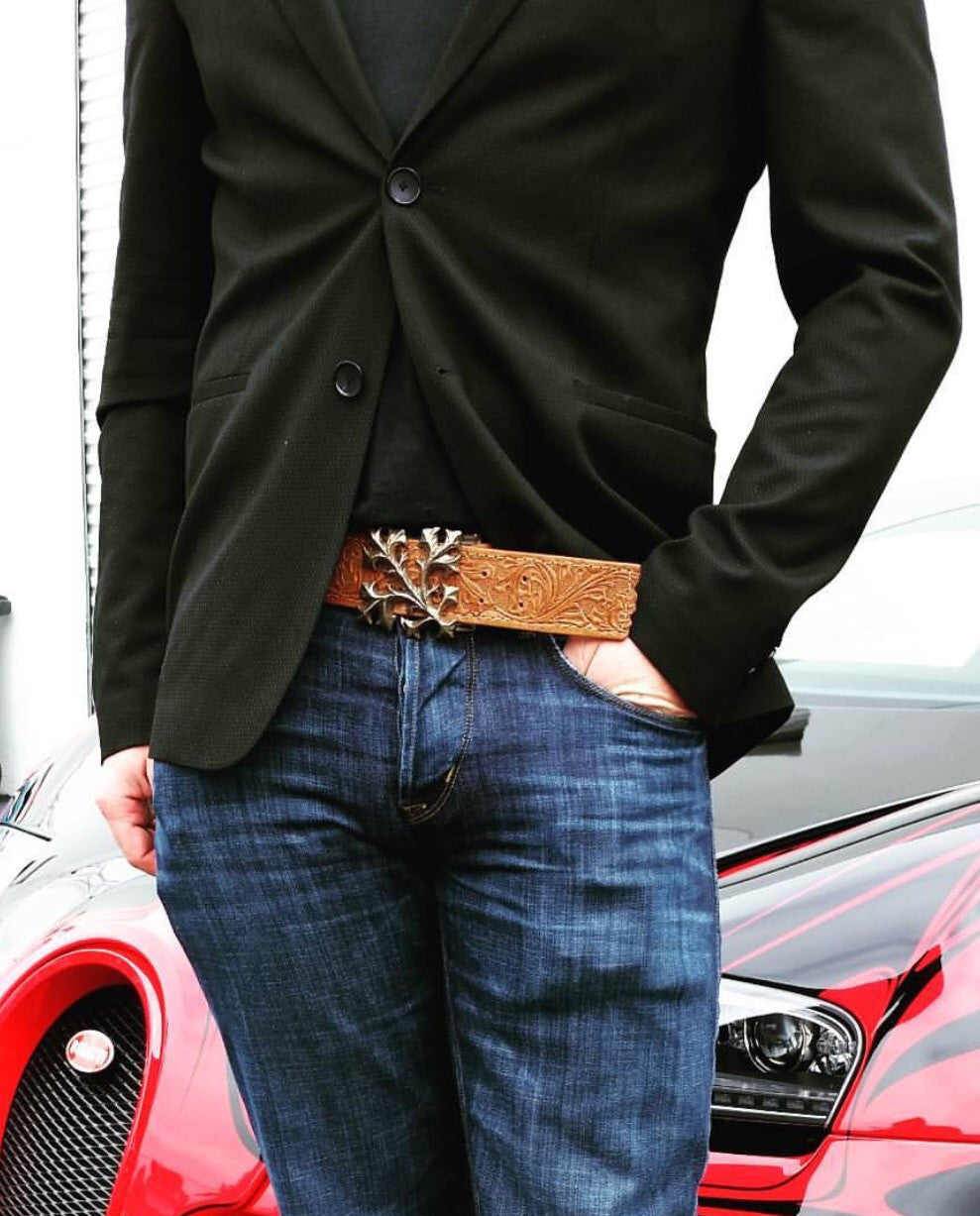 Leather Belt - Celtic Leaf - Cafe
Celtic Leaf 
The buckle was based after a 15th century ornate piece of hardware. 
The belt pattern was inspired from a Gothic 15th Century carving that we redesigned to be a reoccurring pattern heavily embossed on the leather.  The back of the belt is branded with the Seraph logo, material quality details, size then branded with "Designed and manufactured in Los Angeles, California USA".
The American made solid bronze buckle has two prongs and a hidden Seraph logo on it. 
The back of the buckle has our dash-dot- diamond pattern and we always tie in a Bible verse that compliments the style of the belt. The verse for this belt reads, 
"He has shown you, O mortal, what is good. And what does the Lord require of you? To act justly and to love mercy and to walk humbly with your God" Micah 6:8
Belt Strap Construction 
The belt is constructed of hand picked Italian top grain leather and Italian calf suede. The leathers are hand cut, sewn and finished in Los Angeles. 
We use a bold thick thread for edge stitching. The edges are painted with 6-10 coats of Italian durable edge paint. The tip of each belt is custom designed to compliment the overall belt theme.  
Buckle Description 
Each buckle was originally made from a wax carving with high details. The hand carving creative process usually takes 3-4 weeks before it is then cast into the master. The master is then polished finished and a mold is made that will be used for producing the production waxes that are then cast in Los Angeles from American Bronze or American White Bronze. We use patinas and different finishing processes depending on the buckle.